The UK Positive Behaviour Support Alliance is a partnership of organisations focused on improving the quality of life of people whose behaviour may challenge services and those providing support.
Facilitated by Bild and chaired by Jolanta Lasota (CEO of Ambitious about Autism), the Alliance includes families and carers, advocacy groups, care providers, government and research organisations. We also work with and support regional PBS communities of practice.
Our vision: 
People with learning disabilities and/or autism (and their families and carers) have a good quality of life.
The workforce is well trained, well led and well supported and has the skills necessary to meet the needs of the people they are supporting within community settings and schools.
Our purpose: 
To develop a shared understanding of PBS, improve the quality of PBS training, support the implementation of PBS across the education, social care and health (including understanding of commissioners and regulators) in order to achieve our vision.
Our scope:
Work across education, social care and health services with a focus on community-based provision but also including residential and clinical services.
Focus on people with learning disabilities and /or autism (including those whose behaviour may challenge services and those who may also have mental health problems)
Work across England with potential to work across the UK
Develop competency of direct support staff within services, intensive support teams and external consultants and advise on balance between these
To find out more about the PBS Alliance, contact communications@bild.org.uk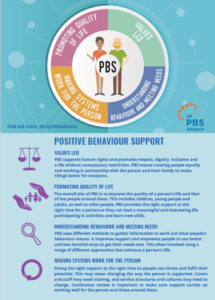 Download our accessible description of Positive Behaviour Support (English) here.