All the latest news and views from Bild.
26 October 2022
Buckinghamshire Council, in collaboration with Bild (British Institute of Learning Disabilities), is piloting a free PBS training programme for families.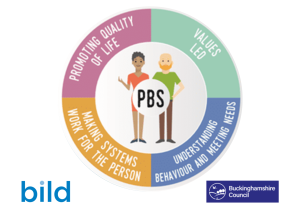 The aim of the training is to provide PBS support to the network of people around a child – enabling a consistent approach that encourages engagement in education and the community.
The training promotes a truly person centred approach. All contributions are listened to, helping to support and encourage communication between families and professionals.
The training is delivered by people with lived experience and promotes strength-based approaches to autism and disability.
Bild and Buckinghamshire Council have developed an innovative pilot programme with the aims of:
Developing a shared understanding of autism and PBS among family carers, and professionals in all services that support autistic young people at risk of exclusion and/or admission to inpatient services.
Sharing ideas and developing an agreement of what good support and capable environments are for these individual children, and as a cohort.
Building, strengthening, and supporting relationships across the whole team that support the child.
Directly improving the quality of life for young people, families and the staff that support them.
Building capacity across Buckinghamshire Council services and including families as a valuable part of the workforce.
Ensuring the programme is accessible and actively promotes the inclusion of hard-to-reach families.
To find out more and register your interest, click here.