PBS is a values-led approach that aims to improve the quality of a person's life and that of the people around them


We have worked with the UK PBS Alliance to produce a positive behaviour support infographic. You can download the pdf below: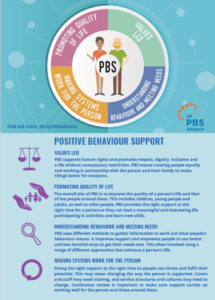 Positive Behaviour Support (PBS) is about working in partnership with people, treating them with dignity and respect and enabling them have a better life.
All behaviours have a meaning. Positive Behaviour Support aims to understand what behaviours that challenge tell us so that the person's needs can be met in better ways. The way the person is supported often has to change to achieve this and this needs to be regularly reviewed by all the people involved.
Positive Behaviour Support is an approach that puts the person at the centre to make systems work for the person. We give the right support at the right time so people can thrive to their potential.
Download our leaflet 'What does good Positive Behaviour Support look like?'
Find out more about PBS by watching this video:
At the Centre for the Advancement of Positive Behaviour Support (CAPBS) at Bild, we work to support the organisational and workforce development of PBS.
Everyone who has successfully completed the CAPBS Coaches Programme are welcome to join our online PBS Coaches Network Community of Practice. This is a fantastic way of networking with others who are working to implement PBS in their organisations, and is a place to share and access resources, tools, ask questions, share solutions and examples of good practice.
We believe a whole organisational approach is needed to embed PBS; everybody who works in the organisation in whatever role should have a basic understanding of PBS and its value base.
Bild consultants work alongside organisations and services in the social care, education and health sectors, as well as with families who support children, young people and adults who have, or may be at risk of developing, behaviours that are concerning or challenging.
Find out more about our workforce development and consultancy
You can contact our PBS team by filling in this online contact form.
How we have helped organisations to implement PBS
We worked with MacIntyre to help them to implement Positive Behaviour Support.
We worked with the Witherslack group to help them to implement Positive Behaviour Support.
We supported The Garden School to help them reduce the use of restrictive practices through Positive Behaviour Support.
Stay up-to-date with CAPBS through our Facebook page, which you can access here>