Positive Behaviour Support (PBS) and Coronavirus: We have produced a series of webinars to support enabling environments for people with learning disabilities and autistic people despite lockdown and other restrictions. Find out more about this webinar series here>

The UK Positive Behaviour Support Alliance is a partnership of organisations focused on improving the quality of life of people whose behaviour may challenge services and those providing support.
Facilitated by Bild and chaired by Jolanta Lasota (CEO of Ambitious about Autism), the Alliance includes families and carers, advocacy groups, care providers, government and research organisations. We also work with and support regional PBS communities of practice.
Our vision: 
People with learning disabilities and/or autism (and their families and carers) have a good quality of life.
The workforce is well trained, well led and well supported and has the skills necessary to meet the needs of the people they are supporting within community settings and schools.
Our purpose: 
To develop a shared understanding of PBS, improve the quality of PBS training, support the implementation of PBS across the education, social care and health (including understanding of commissioners and regulators) in order to achieve our vision.
Our scope:
Work across education, social care and health services with a focus on community-based provision but also including residential and clinical services.
Focus on people with learning disabilities and /or autism (including those whose behaviour may challenge services and those who may also have mental health problems)
Work across England with potential to work across the UK
Develop competency of direct support staff within services, intensive support teams and external consultants and advise on balance between these.
PBS Networks and Communities
These are autonomous PBS networks and communities that connect through the UK PBS Alliance.
Bild CAPBS Coaches Network
Surrey PBS network
Greater Manchester PBS Community of Practice
Liverpool Community of Practice
Suffolk Regional PBS Community of Practice network
North West PBS network
Tyne Esk and Wear PBS Community
The North East and Cumbria Positive Behavioural Support (PBS) Community of Practice
You can access the UK PBS Alliance Community Charter here
The UK PBS Alliance also has a specialist schools groups, which aims to establish a shared understanding of PBS in schools, share existing good practice and ideas for development and implementation. Find out more about the UK PBS Alliance Schools Group here>
We also have links to :
To find out more about the PBS Alliance, contact communications@bild.org.uk
Resources
The PBS Workforce Development Framework (2020) can be downloaded here>
Webinars
We run webinars every other month, featuring experts in the field presenting on  topical issues in the PBS field. Check out our previous webinars below, and sign up for our future webinars from the events and webinars page.
Values and Science: Getting the Balance Right in PBS (Tony Osgood)
Scaling up PBS (Rachel Freeman)
Including people with disabilities in all elements of PBS (Tom Tutton)
Building a Communication Passport (Kate Sanger)
What senior managers need to know about PBS (Sarah Leitch and Tom Evans)
What is PBS and how do we do it? (Dr Anne MacDonald)
Webinars: Building Enabling Environments during COVID-19
Find out more about this webinar series here>
Sensory considerations to maintain and create capable environments (Susan Fowler)
Find out more information and related resources here>
Helpful communication in 'enabling environments' during Covid-19 (Jane Johnson)
Find out more information and related resourceshere>
Active Support during the Covid-19 lock-down (Dr Edwin Jones and Andrew Guy)
Find out more information and further resources here>
This webinar is also available to watch in Welsh, and can be accessed here>
Building and maintaining a good rapport (Maria Hurman)
Avoiding Polarising Perspectives in Positive Behaviour Support (Meme Hienemann and Sarah Leitch)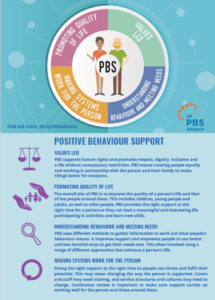 Download our accessible description of Positive Behaviour Support (English) here.