All the latest news and views from Bild.
20 May 2021
Every day we communicate in multiple ways to build relationships, express ourselves, and get our needs met.
However, communication can often pose additional challenges for individuals with learning disabilities. It is important that we make reasonable adjustments to ensure the people we work alongside and support are empowered and enabled to have their voices heard  and listened to.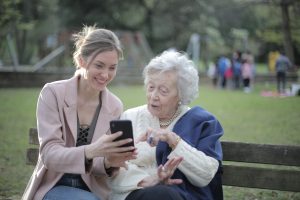 This summer, Speech and Language Therapist, Helen Cunliffe, will be leading a workshop at our Ageing Well with Dementia and Learning Disabilities from 22-24 June . She'll help us better understand how we can communicate well with individuals with learning disabilities who are living with dementia, to ensure their voices are heard and listened to.
Helen works with adults with intellectual disabilities in the Neath and Port Talbot area of South Wales, and in older adults mental health inpatient services. We caught up with her to find out more about why she's so passionate about her work, and why communication is so vitally important.
In your professional work, what are you most passionate about and why?
I've worked in this field for 25 years and I love the fact that no two days are ever the same – there is never the risk of feeling bored!
In my experience, people with an intellectual disability have been the best teachers, critics and supporters and I am passionate about making sure that their voices are heard and are at the heart of services.
I'm also a Welsh speaker and ensuring that the language of choice is offered to individuals and their families is also a key priority for me to ensure maximum engagement.
What do you think are the most important developments and challenges that we should be aware of around people ageing with an intellectual disability and dementia?
People with learning disabilities can be at risk of a later diagnosis of dementia due to diagnostic overshadowing or changes not being picked up early due to existing cognitive and linguistic impairments.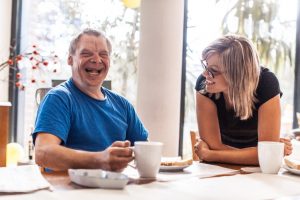 This can lead to a delay in proactive interventions and support and cause frustration and distress to the individual and their families and carers. There is also a risk of being unable to access mainstream services if reasonable adjustments are not in place.
One of the important developments in Wales is the recent publication of the All Wales Dementia Care Pathway of Standards. There are 20 standards, with specific reference to adults with an intellectual disability in Standard 4 with all other standards all being relevant.
It is so important that we join up across the four nations of the UK and share areas of good practice for shared learning, development and improvement.
Another important development is that we are talking more about ageing with an intellectual disability and whilst there is a lot of work to do in this area, having forums such as the Growing Older with a Learning Disability (GOLD) group is important in making sure this is high on the agenda.
Tell us a bit about why communication is so important, in your opinion?
50%-90% of the learning disabled population have communication difficulties (RCSLT, 2019).
Communication is an absolutely key skill for us to develop and maintain relationships, express our opinions and share experiences to make sure that people with learning disabilities receive the best services possible.
What health professionals might think is a good idea may not always be what the person with an intellectual disability needs or wants so it is crucial that there is ongoing positive and effective communication and that people listen to what is being said.
To facilitate this, reasonable adjustments such as specific communication tools may be needed to be made e.g. sign supported language, Talking Mats and awareness of factors which may be impacting on the individual's communication skills such as hearing or visual impairments are considered.
Helen will be leading her workshop about communication, dementia and learning disability at our Ageing Well conference this summer.
Helen's workshop will cover:
The current context – key facts and figures
How dementia can impact on the communication skills of a person living with dementia at different stages
What communication approaches can be used to support a person who is living with dementia and their families and paid carers
The lived experience – what have been the communication barriers when living with dementia and what has helped?
Find out more about our inspiring programme of speakers and workshops here.
I am really looking forward to meeting new people and learning and sharing experiences and information. – Helen Cunliffe