Location: Plymouth
Purpose: The purpose of the group is to create and steer a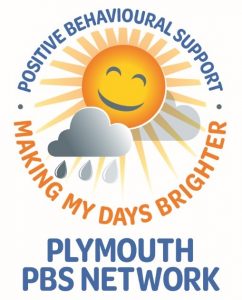 Community of Practice under the banner of the Plymouth PBS Network, the aims of the network are to:
Provide opportunities for community partners to develop a greater understanding of Positive Behavioural Support (PBS).
Provide a forum for non-paid carers (family carers, volunteers) to develop their understanding of PBS.
Provide opportunities for workforce and organisation development across Plymouth in line with PBS competencies framework.
Promote & develop PBS across Plymouth.
Link across the peninsula (Devon & Cornwall) to share good practice in the region.
Create further networks of support that provide opportunities for problem-solving and service-development relating to PBS approaches.
Activities: The Plymouth Network aims to be a place where we can share information and be collaborative.
The Plymouth PBS Network runs quarterly network events based around key topics pertaining to PBS. As well as a forum for gaining information the network aims to be a place where people can make links with others with similar interests.
The Plymouth Network supports the annual South West PBS Event which is held at the University of Plymouth. This is a conference style event with presentations and workshops.
Who can join/ who the community is for:
Attendees from education – school, further education & the University of Plymouth
Professionals from health and social care
Attendees in the Local Authority/Adult and/or Children's Social Care
Providers
Family members & people with Learning Disabilities and Autism Spectrum Condition
Regulators
Links to website/ forum:
Information for Families / Providers / Service Users
Primary contact: PBS Admin support – admin@plymouthpbsnetwork.com
Leanne Eastman is a Clinical Lead in Positive Behaviour Support working in a Community Learning Disabilities team. Leanne has worked in the team for over a decade and in this time gained a masters from the Tizard Centre at the University of Kent. Leanne has presented at the NHS England Improving Lives events and The National Development Team for Inclusion (NDTi) around the topic of how PBS is key to helping people return to their communities from assessment and treatment units.
Leanne first established the Plymouth PBS Network steering group in April 2018 and is blessed to have done this alongside people who inspire her and are just as passionate about PBS and ensuring that people with Learning Disabilities and Autism have good quality of life. Leanne now chairs the steering group that is responsible for the continuation and development of the Plymouth PBS Network. The steering group is made up of representatives from commissioning, experts by experience, social care providers, an educational lead and a representative from the University of Plymouth.
As well as the work locally Leanne is also a part of a Transforming Care steering group and has devised a 5 year strategy which hopes to scale up PBS and increase capacity and capability in Devon.