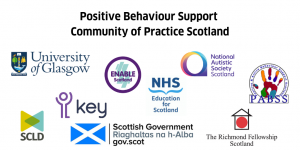 The PBS Community of Practice for Scotland is launching on 4 June 2020 with a launch webinar taking place at 2pm, hosted by the Scottish Commission for Learning Disability.
Following the publication of the Coming Home report in 2018, the Scottish Government made a commitment to develop a Positive Behaviour Support (PBS) Community of Practice (CoP) for Scotland. This webinar will introduce the PBS Community of Practice for Scotland.
The community of practice hopes to become a national focal point for all those who have an interest in PBS and its use to support people with learning disabilities.
Webinar Details
Date: Thursday 4th June 2020
Time: 2.00pm – 3.30pm
This introductory webinar will cover 4 topics:
An Introduction to PBS and the PBS Community of Practice in Scotland
PBS in Family Settings
PBS in Social Care Settings
PBS in Health Care Settings
Presenters
Dr Anne MacDonald, Chair of the PBS CoP Steering Group
Kate Sanger, Family Carer, co-creator of My Commpass Communication Passport https://mycommpass.com/, Trustee Advisor of the Challenging Behaviour Foundation (CBF) and Co-founder of Active Behaviour Support Scotland (PABBSS)
Caroline Shaw, Head of Complex Needs Positive Behaviour Support Team, The Richmond Fellowship Scotland
Dr Jill Jones, Consultant Clinical Psychologist, Learning Disability Services, NHS Fife
You can register for the webinar here>