Creating Capable Environments – Tier 1 Support: An Introduction
The UK PBS Alliance Schools Community of Practice aims to share good practice of implementing positive behaviour support (PBS) in school settings. The community of practice welcomes anyone who is interested in implementing positive behaviour support in schools settings, whether you are new to the PBS framework of support or have many years' experience in PBS.
Come and join us for our next event, on Thursday 27 May, where we'll be introducing creating capable environments in the school context.
Capable environments support individuals effectively by providing the best settings to support positive interactions and opportunities. It is about taking a holistic approach by considering how multiple factors in the environment can be adapted to promote personal preference, aspirations, quality of life and reduce behaviours of concern (NICE, 2015).
In this first session we'll discuss creating capable environments at the tier 1 level of the PBS framework (seen in the image below).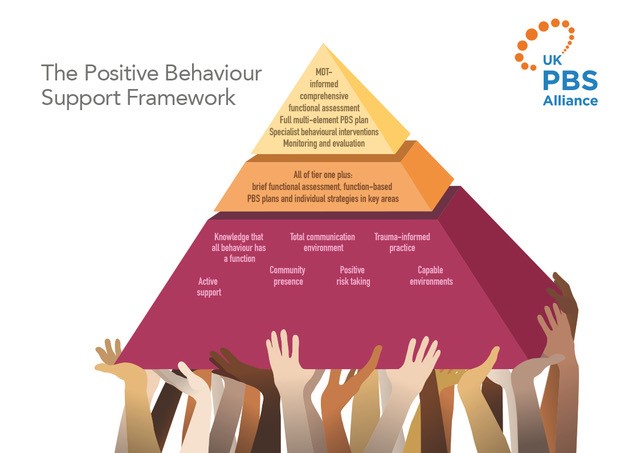 Jane Johnson and Pablo Menendez will deliver presentations to introduce what capable environments are, and how a school is developing its implementation at tier 1 level in practice. We'll then break into discussion groups to discuss capable environment audits, baselines, action plans, and what people have done already that has had a positive impact in their schools.
Register now for what is set to be a fantastic opportunity to learn new skills, share good practice, and meet others who share a similar vision.