All the latest news and views from Bild.
10 June 2019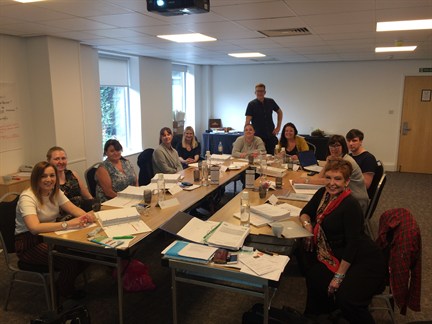 Last week we were delighted to deliver our 200th Positive Behaviour Support Coaches Programme. We have now trained almost an incredible 2000 coaches.
Steve Wilson took part in our very first Coaches Programme back in 2014 and is now a BILD PBS consultant. It was particularly fitting that he led the 200th programme:
"Between the 3-5th June 2019 I facilitated the 200th BILD PBS Coaches Programme in Manchester with a group of people whom despite working for different organisations in a variety of roles, ALL had a shared passion, desire and vision in wanting to improve quality of life for the people they support. In my experience, this desire and vision is a common theme shared by all those who have attended the Coaches Programme.
The BILD PBS Coaches Programme provides a variety and range of tools, ideas and inspirational 'light bulb' moments that Coaches can adapt to their working environments and practices to promote and develop the person-centred principles that underpin PBS. The Action Planning session on the third day is when these thoughts and ideas begin to take shape and the participants understand that this is when their PBS journey begins as they want to apply the introduced theories into practice.
The participants from the 200th course began the first day with curiosity and trepidation but left with confidence, knowledge and overall a desire to implement change and make a difference."
The 200th BILD PBS Coaches Programme was delivered in partnership with the Greater Manchester Health and Social Care Partnership. Dave Williams, the Greater Manchester Workforce Lead, explains:
"Over the last couple of years Greater Manchester has invested in a number of the BILD PBS Coaches Programmes to enhance the knowledge and the skills of staff from Health and Social care providers. As well as the Coaches Programmes, we have developed a Community of Practice both online and face to face. All these activities link in with the wider Greater Manchester PBS Strategy.
Over the coming months, Greater Manchester is again investing in more Coaches Programmes, but also expanding the offer to include children, young people and Schools."
Hear more first-hand from Greater Manchester PBS Coaches about how the Coaches Programme has helped them develop their practice and improve quality of life for the people they work alongside.
We look forward to continue working with Greater Manchester Heath and Social Care Partnership as they seek to implement Positive Behaviour Support across the region.
And last but not least, here's to another 200 BILD PBS Coaches Programmes and another amazing 2000 Coaches!
Want to implement positive behaviour support in your organisation or service? Take a look at our upcoming PBS Coaches Programmes here.